Collection of Recollections is inspired by the relationships in my life. Each piece is about what matters most in my life: my relationships and interactions with my family and friends. The watercolor paintings are meant to be snapshots of moments that happen between the figures in each relationship; whether those moments are good or bad.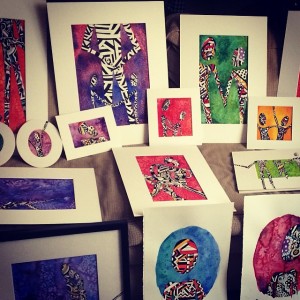 My goal is to connect with the viewer through the universal experience of relationships. I depict numerous kinds of relationships—between a parent and child, friends, siblings, lovers, and one's self. Because the figures are both generic and genderless, viewers can easily make the figures in the paintings represent their own personal relationships. Different patterns on the figures symbolize that each person in the relationship is unique. I use many patterns within these figures to indicate it is important that each person in a relationship let their individuality shine. The long elastic, wrapping limbs of the figures are symbolic of the connections in each relationship.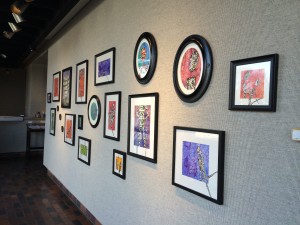 My vision for my paintings is to be displayed salon style, to reflect the picture wall that is found in so many family members' homes. This idea came from seeing the two large picture walls in both of my grandparents' homes. The small size of the pieces imitates the size of photographs that might be displayed in a person's home.
    It is important for me to include both the good interactions and the bad interactions. My desire in doing this is to show all aspects of the different relationships. Whether it is two lovers embracing or a parent lecturing a child, the memories are important. My intention is for viewers to look at my paintings and be able to reminisce about their personal relationships and the memories associated with those relationships.